From the Chairman's Desk….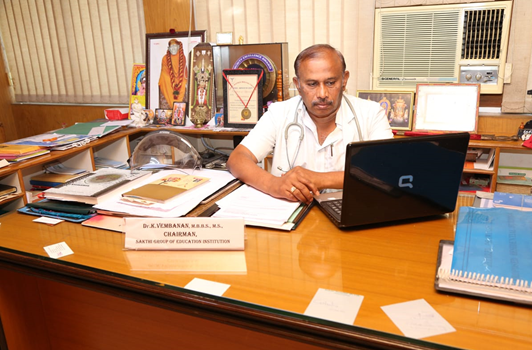 DR. K. VEMBANNAN, M.B.B.S., M.S.,
CHAIRMAN,
SAKTHI GROUP OF EDUCATIONAL INSTITUTIONS,
CORRESPONDENT, SAKTHI COLLEGE OF ARTS AND SCIENCE,
ODDANCHATRAM, TAMIL NADU, PALANI
"Education is the manifestation of perfection already in mankind" – Swami Vivekananda.
Sakthi College of Arts and Science has now in its full bloom with the abundant blessings of Arutchelvar Pollachi Mahalingam Ayya. Hailing from an Agrarian Society and having been a rank holder and gold medalist in my M.B.B.S., M.S., Degree Programmes and with 3 decades of rich experience in medical profession, constructing a society with rich educational foundation has been my motive. My focus is on imparting quality education to the rural young women in and around Dindigul District and thus empowering them. Having been launched in 2009, Sakthi College of Arts and Science has been striving to stretch its arms towards perfection by aiding the young women students to excel in all the fields of academics, co-curricular activities as well as learning life skills. Along with education, imbibing human values like compassion, courage, humility, integrity and reliability is the prime motto of this institution.
With the continuous support extended by you, we are sure to reach the pinnacle of excellence.