QUESTIONNAIRE, GIVEN THROUGH ONLINE MODE
Name of the Faculty: __________ Designation: __________
Department: __________ Date of Joining: __________
Note: Your valuable opinions and suggestions are solicited for further improvement of the curriculum and designing of the syllabus. Your responses will be kept confidential and used only for the stated purpose. (Programme = Degree; Course = Paper)
| | | | | | | |
| --- | --- | --- | --- | --- | --- | --- |
| S.No | Particulars | Strongly agree | Agree | Neutral | Disagree | Strongly disagree |
| 1 | The currency and the relevancy of the Programme offered are appreciable. | | | | | |
| 2 | The Board of Studies and the Academic Council take much care to ensure the quality of the Programme. | | | | | |
| 3 | Employability is given weightage in curriculum design and development. | | | | | |
| 4 | I am given enough freedom to contribute my ideas on curriculum design and development. | | | | | |
| 5 | The OBE system followed by the college is effective. | | | | | |
| 6 | The curriculum has been updated from time to time. | | | | | |
| 7 | Student-centered learning resources are available in the college. | | | | | |
| 8 | The class work takes place as per schedule. | | | | | |
| 9 | When a student completes a Programme in this institution, I could feel the sea-changes in her as a full-fledged graduate. | | | | | |
| 10 | I should be really fortunate to be a teacher of this institution. | | | | | |
Suggestions for further improvement of the curriculum (only):
INTERPRETATION, ANALYSIS & ACTION TAKEN REPORT
Among the 128 teacher-respondents, 98.4 percent of the teachers agree that relevancy of the programmes offered are appreciable. 97.7 percent of them find the involvement of the members of the Board of Studies and the Academic Council in ensuring the quality of education good. 88.7 percent of the teachers feel comfortable with the Outcome-based education effective. Almost 90 percent of them feel that they are fortunate to be a teacher in this institution. But still 17.2 percent of the teachers have suggested that the curriculum should give place for employability-based courses.
The IQAC comprehends the importance to be given to courses mainly on employability and entrepreneurship at the under-graduate level. Much weightage will be given in the next syllabi, framed for all programmes.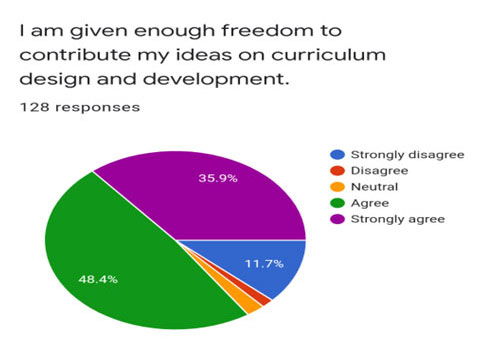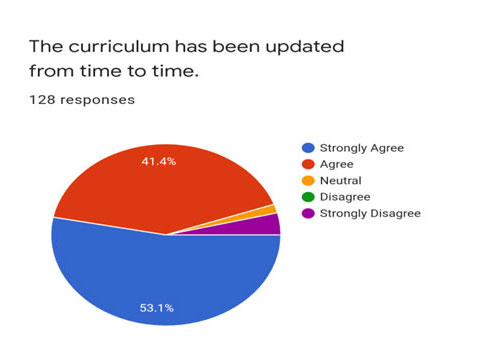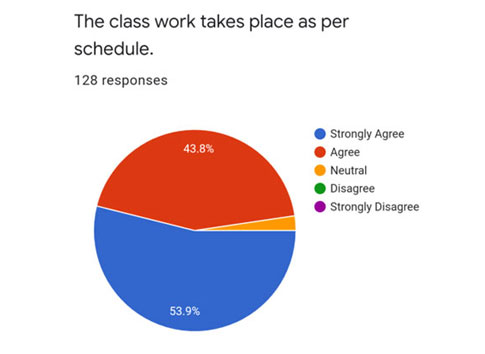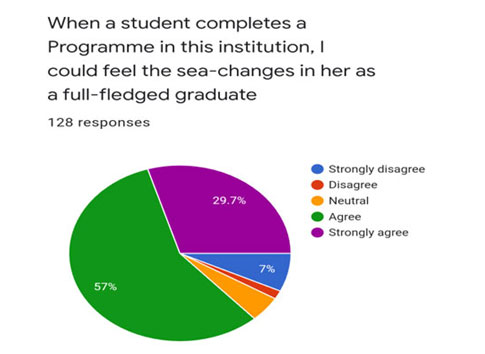 Summary & Action Taken:
Among the 1210 student-respondents, nearly 97 percent of the students feel the newness of the Outcome-based Education is either good or extremely good. 95.3 percent of them are in praise of the learning outcomes of the programmes in terms of skill development, promotion of knowledge and conceptual study. However, around 6 to 7 percent of the students are of opinion that the skill oriented courses and library holdings of the courses need to be improved still more.
The IQAC has decided to increase the number of skill-oriented courses and the mounting of valuable books in the college library.
INTERPRETATION, ANALYSIS & ACTION TAKEN REPORT
Among the 565 student-respondents, nearly 95 percent of the students are much satisfied with the OBE Syllabus, framed by the Mother Teresa Women's University, Kodaikanal and brought in adoption by the college. The newness of the Course Content is refreshing to them. The students are able to get at the utility purpose of the curriculum.
Yet, less percentage of students of the college would prefer to have more number of job-oriented and entrepreneurship based courses. This will aid them to get placed. Some of them insist more importance on communication skills.
The IQAC has made an analysis of the feedback interpretation. The faculty who take part in the Board of Studies to decide the Syllabus for the academic years 2021 – 2024 will represent the need of the students in the meeting to the University Representatives and modifications will be done accordingly in the Common Structure of the Syllabus.